Business Wireless Network Vulnerability Checklist
Make sure your network is protecting against cybersecurity threats with this checklist

Does your company have a secure enough network to protect your digital assets?
If your business network is vulnerable your company may become a victim to a cyber attack.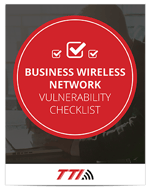 Use this checklist to determine if your network:
Has all the security features you need
Limits where outside traffic comes from
Has a strong BYOD policy in place
and more!

Determine how vulnerable your network is by downloading your free "Business Wireless Network Vulnerability Checklist" today.
Get Your Copy for Free When You Subscribe