Assessing the Risks of Lone Workers
What is a Lone Worker?

Occasionally, an employee may be required to work for an extended period of time by themselves. These people represent a unique challenge to both productivity and safety that should be addressed properly as part of an overall safety plan.
Lone workers are exposed to a large number of different unique risks that need to be addressed at all costs.
Some of the things about lone workers that you need to keep in mind include but are not limited to things like:
The health and general fitness record of the employee - is it a good idea to have this person work by themselves in the first place?

Can the job that you want this person to do safely be performed by only one person?

What type of steps do you need to take to make sure that the employee can get help if something goes wrong?

How often should you be checking in on this employee to make sure that they're still safe?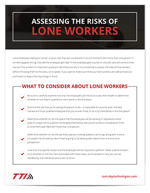 To find out more about what you can be doing to help create the safest possible environment for all of your employees, lone or otherwise, download the free checklist "Assessing the Risks of Lone Workers" today.
See if your Lone Workers are Fully Protected