6 Must Have Services for Your Network Solutions Company
What critical services should your networking solutions company provide?

The digital landscape is constantly changing and companies are being forced to either adapt and look forward to stay ahead of the curve or risk falling behind.
In this eBook, you'll learn about:
Wired and wireless network assessments with insight into the valuable, actionable information that they can provide you with.
Managed services and why so many organizations are turning towards these providers for both cost savings and productivity increases.
Network security, including the policies and procedures that you need to put in place to keep your network and information safe.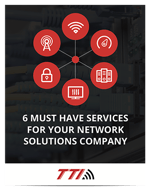 If the network solutions company you've chosen to partner with isn't offering these six core services on top of all of the other value-added items, you're doing a dramatic disservice to both yourself and your customers.
To find out the full list of services and what these solutions bring to the table, fill out the form to download the eBook "6 Essential Services Your Network Solutions Company Must Have" today.